Skip to main content
Overland Park, KS (October 18, 2017)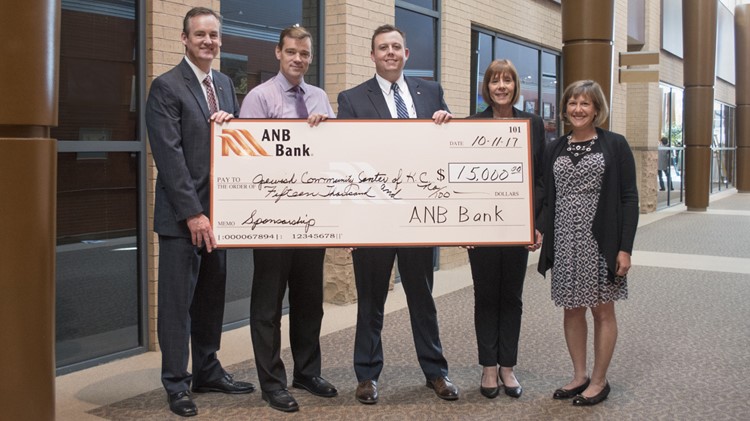 ANB Bank and Don and Sue Sturm have presented the first installment of their three-year donation commitment of $75,000 to the Jewish Community Center of Greater Kansas City. The first gift, totaling $15,000, was presented to the J on October 11.
"We see The J as a not only a benefit to our community, but a necessary operation for the residents of greater Kansas City. As a family owned community bank, we appreciate their mission to provide a wide range of programs and activities that can be enjoyed by the entire community; as well as their support of related community outreach organizations, such as Jewish Family Services" said R.J. Gildea, regional president of ANB Bank of the Kansas City area. "It is with great pleasure ANB Bank and the Sturm family contributes this investment to the Jewish Community Center of Greater Kansas City."
The donation is awarded to the J as part of an annual corporate sponsorship commitment that has been extended an additional three years.
Jim Sluyter, President and CEO of The J, said, "ANB is a true community partner, helping with our financial needs from a business perspective while also giving back to our facility, which continues to provide our members with great programming, which spans across multiple platforms from Fitness, Cultural Arts, Child Development Center preschool, to the Heritage Center for seniors".
The Jewish Community Center of Greater Kansas City ("The J") opened in 1914 in midtown Kansas City, Missouri, and has grown and adapted to serve the changing needs of Greater Kansas City's Jewish and secular communities. They have continuously offered the finest in recreational, social, and educational services.
Across the ANB footprint, the Bank has 30 banking centers serving customers in Colorado, Wyoming, and Kansas City Metro area. Its parent company, Sturm Financial Group, Inc. is headquartered in Denver Colorado and has financial strength embodied in over $2.5 billion in assets. The Bank ranks in the top 6% of banks nationwide by size. ANB is a true community bank with an unwavering commitment to excellence. It helps each of its communities prosper through investment, sponsorship, philanthropy, and employee volunteerism. It is a passion ANB has for banking that makes the difference.