Skip to main content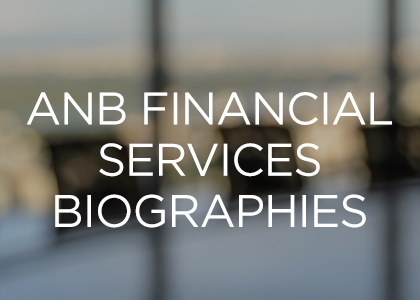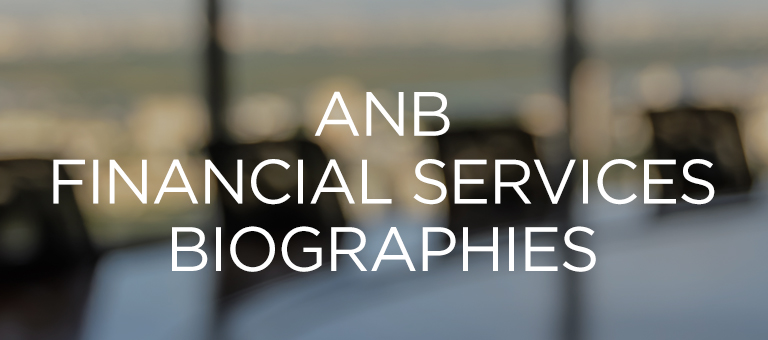 ANB Financial Services Biographies
Patricia Frisch -
President, ANB Financial Services
Patricia Frisch – (303) 394-5059
As a seasoned executive with broad-based leadership experience, Patricia Frisch leads ANB Bank's Financial Services Division. As president, she brings over 25 years of experience to provide strategic direction for the division, and leads her team of experts in implementing plans for long-term security and growth of clients' assets.
Patricia has expertise in trust and asset management, budgeting, financial and strategic planning, business development and leadership, as well as extensive knowledge in fiduciary compliance and trust regulations. She graduated with a bachelor's degree in finance from Southern Illinois University in Carbondale, Illinois. She is also a Certified Trust and Financial Advisor (CTFA).
Patricia is actively involved in the community, and she supports various non-profit organizations through ANB Bank's employee volunteer network.
Scott Breaux -
Senior Vice President, Investment Manager
Scott Breaux – (303) 394-5423

As senior vice president and investment manager of ANB Financial Services Division at the Cherry Creek Banking Center, Scott will be assisting the bank's financial services clients with all of their investment needs. He brings a high level of service and trust to his customers, along with a well-rounded knowledge base and experience. Scott has both his bachelor's and master's in finance, and has also earned his Chartered Financial Analyst (CFA) designation. Prior to joining ANB, he worked for highly regarded firms such as JP Morgan, First Western Trust and Invesco. Most recently, he worked for Advised Assets Group LLC, a subsidiary of Great West Life. Scott has volunteered his extra time helping kids through Junior Achievement.
Tonya J. Kaye -
Senior Vice President, Chief Fiduciary Officer
Tonya Kaye – (303) 394-5111
As Chief Fiduciary Officer for ANB Financial Services at the Cherry Creek Banking Center, Tonya Kaye oversees the administration of trusts, estates, investment accounts and IRAs, building close relationships with account owners and beneficiaries.
Tonya is a lifelong Coloradan and brings 20 years of experience in law and business management to her role. Before joining ANB Financial Services, she held positions in both the financial planning field and the legal field. Tonya's most recent position was vice president and trust office manager at a bank located in Denver. She has also earned both her bachelor's degree in business as well as her Juris Doctorate.
Tonya enjoys giving back to the community and is involved in several volunteer activities. She is currently serving as the treasurer for Project Angel Heart Board of Directors and is on the board of the Colorado Planned Giving Roundtable. She also spends a great deal of time supporting the Denver Metro Chamber of Commerce Leadership Foundation and has previously served on the boards of the Colorado Women's Chamber of Commerce, Women's Leadership Foundation, The Leadership Investment and the Denver Mile High Rotary Club of Denver.
Kari Hebble -
Vice President, Senior Wealth Strategist
Kari Hebble – (719) 381-5636
Kari Hebble is a senior wealth advisor for ANB Financial Services at ANB Bank's Cimarron Banking Center. She has an extensive and deep understanding of sophisticated wealth management practices and investment strategies. Her clients receive exceptional services that lead to long-lasting business relationships.
Kari has over 25 years of experience in the financial services industry. Prior to joining ANB Bank, she served in the Denver market as well as in the markets of Oregon, New Jersey and New York. She attended Lycoming College in Williamsport, Pennsylvania, and holds a bachelor's degree in political science with a minor in economics.
Kari is active in her volunteerism and enjoys serving the Colorado Springs community. She is a member of the Colorado Springs Estate Planning Council and looks forward to participating in the bank's volunteer program.
Jay Ratterman -
Vice President, Portfolio Manager
Jay Ratterman – (303) 394-5065

Jay Ratterman is a Portfolio Manager with ANB Financial Services division, where he conducts extensive research and analysis of clients' investments to help enhance and diversify their portfolios.
Prior to joining ANB Bank, Jay worked as a performance reporting analyst for an investment consulting firm. He began his career in financial services in 2007. Jay earned a bachelor's degree in business administration and is a member of the Chartered Financial Analyst Institute and the CFA Society of Colorado.
In his free time, Jay volunteers for the largest provider of donated medical supplies to developing countries around the world.