Skip to main content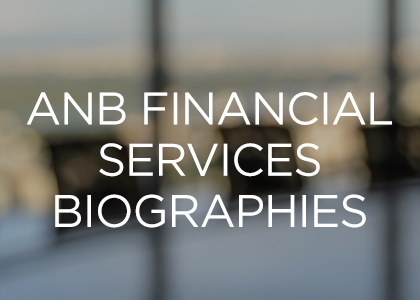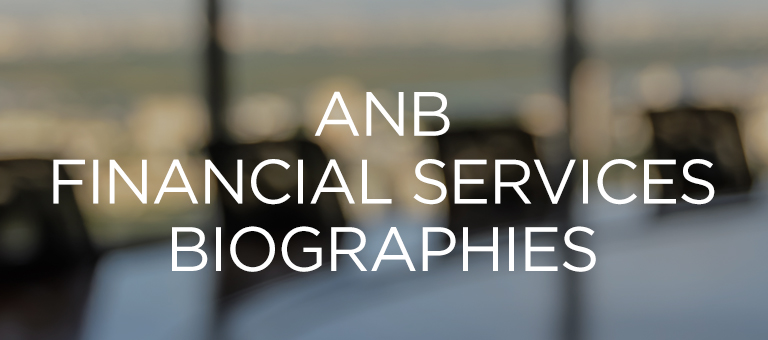 ANB Financial Services Biographies
Patricia Frisch -
President, ANB Financial Services
Patricia Frisch – (303) 394-5059
As a seasoned executive with broad-based leadership experience, Patricia Frisch leads ANB Bank's Financial Services Division. As president, she brings over 25 years of experience to provide strategic direction for the division, and leads her team of experts in implementing plans for long-term security and growth of clients' assets.
Patricia has expertise in trust and asset management, budgeting, financial and strategic planning, business development and leadership, as well as extensive knowledge in fiduciary compliance and trust regulations. She graduated with a bachelor's degree in finance from Southern Illinois University in Carbondale, Illinois. She is also a Certified Trust and Financial Advisor (CTFA).
Patricia is actively involved in the community, and she supports various non-profit organizations through ANB Bank's employee volunteer network.
Scott Breaux -
Chief Investment Officer
Scott Breaux – (303) 394-5423

As Chief Investment Officer of ANB Financial Services Division at the Cherry Creek Banking Center, Scott will be assisting the bank's financial services clients with all of their investment needs. He brings a high level of service and trust to his customers, along with a well-rounded knowledge base and experience. Scott has both his bachelor's and master's in finance, and has also earned his Chartered Financial Analyst (CFA) designation. Prior to joining ANB, he worked for highly regarded firms such as JP Morgan, First Western Trust and Invesco. Most recently, he worked for Advised Assets Group LLC, a subsidiary of Great West Life. Scott has volunteered his extra time helping kids through Junior Achievement.
Tonya Kaye -
Chief Fiduciary Officer
Tonya Kaye – (303) 394-5111
As Chief Fiduciary Officer for ANB Financial Services at the Cherry Creek Banking Center, Tonya Kaye oversees the administration of trusts, estates, investment accounts and IRAs, building close relationships with account owners and beneficiaries.
Tonya is a lifelong Coloradan and brings 20 years of experience in law and business management to her role. Before joining ANB Financial Services, she held positions in both the financial planning field and the legal field. Tonya's most recent position was vice president and trust office manager at a bank located in Denver. She has also earned both her bachelor's degree in business as well as her Juris Doctorate.
Tonya enjoys giving back to the community and is involved in several volunteer activities. She is currently serving as the treasurer for Project Angel Heart Board of Directors and is on the board of the Colorado Planned Giving Roundtable. She also spends a great deal of time supporting the Denver Metro Chamber of Commerce Leadership Foundation and has previously served on the boards of the Colorado Women's Chamber of Commerce, Women's Leadership Foundation, The Leadership Investment and the Denver Mile High Rotary Club of Denver.
Nick Bilak -
First Assistant Vice President, Wealth Advisor
Nick Bilak – (303) 394-5125
As a wealth manager for ANB Financial Services at ANB's Cherry Creek Banking Center, Nick Bilak assists clients with financial investment management through building lasting relationships and providing high-quality service.
Prior to joining ANB Bank, Nick developed extensive knowledge and experience in client relations and investment analysis at various financial institutions in the Greater Denver Area. He attended Colorado State University in Fort Collins, CO, and he holds a bachelor's degree in business administration.
Nick previously served in the U.S. Marine Corps and is an active member of his community. He is passionate about teaching financial education in the veteran community. He also looks forward to being a part of the bank's volunteer program.
Sandra Chapman -
Trust Officer
Sandra Chapman – (307) 778-5380
Sandra Chapman is a trust officer at ANB Financial Services at ANB's Cheyenne Banking Center. Her knowledge and expertise contribute to ensuring her customers receive high-quality trust administration and investment management services to meet their needs and succeed.
Before joining ANB Bank, she held various roles in the financial institutions in Wyoming, including loan assistant, marketing assistant, and investment assistant. At ANB Bank, she was previously a trust administrative assistant. Client-focused and goal-oriented, she brings 29 years of diverse banking experience to her role.
Sandra is an active member of the community, and she looks forward to participating in the bank's volunteer program and is passionate about helping others.
Connor Reid -
Assistant Vice President, Portfolio Manager
Connor Reid – (303) 394-5065
Connor Reid, as an assistant vice president and portfolio manager at ANB's Cherry Creek Banking Center, is dedicated to using his investment background to assist clients with any and all investment questions they may have. In addition to his accreditation as a Chartered Financial Analyst, he brings several years of financial investment experience to his role. Connor ensures that customers are receiving a high level of investment expertise.
Connor comes to ANB with a Bachelor's degree from Elon University. Before joining ANB's Financial Services team, he provided investment support for firms such as Fidelity Investments and Allegacy Investment Group.
A large part of ANB's culture revolves around giving back to the community. Connor has earned the Boy Scouts of America Eagle Scout Award, as well as volunteered with the YMCA and Habitat for Humanity.
Jessica Showers -
Trust Officer
Jessica Showers – (719) 381-5623
Jessica Showers is a trust officer for ANB Financial Services, located at ANB Bank's Cimarron Banking Center in Colorado Springs. She applies her extensive experience in law to assist our customers with their trust and estate management needs.
Prior to joining ANB Financial Services, Jessica worked for over 20 years in the legal field, first as a paralegal, and then as an attorney. She brings her considerable knowledge in family law, trust administration, and conservatorship to her role, assisting our Colorado Springs financial services customers with compassion and expertise. She holds associate degrees in Arts and Humanities in Political Science and Applied Science in Paralegal from Pikes Peak State College. She graduated magna cum laude with a Bachelors in Political Science from the University of Colorado at Colorado Springs and achieved a Juris Doctor degree from the New England School of Law.
A large part of ANB's culture revolves around giving back to the community. Jessica is excited to participate in ANB's employee volunteer program within the Colorado Springs community.