Skip to main content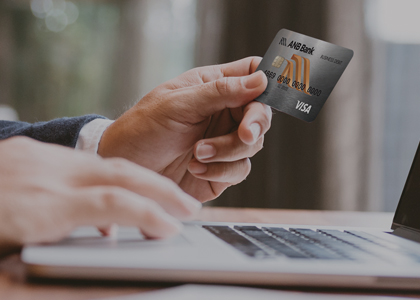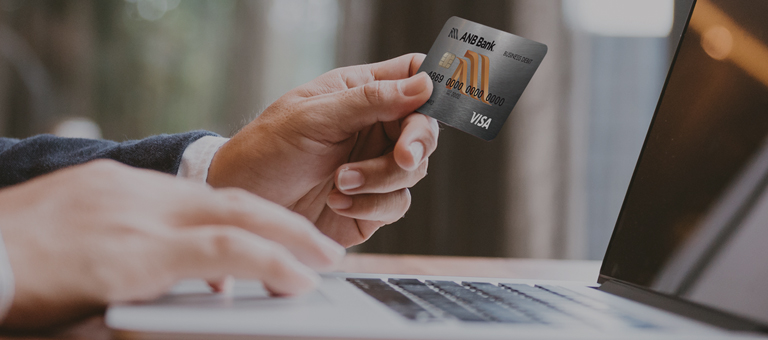 Business Debit Cards
ANB Bank's Business Contactless Debit Card is free with no annual fee.* Your business card can be used anywhere that accepts Visa, including contactless or tap to pay terminals and at any ATM. Our debit cards utilize both contactless and chip card technology, which includes features to help prevent potential fraudulent use.
---
Contactless Card Features
Contactless Cards work similarly to mobile or digital wallets, utilizing Radio-Frequency Identification (RFID) and Near Field Communication (NFC) technology to enable payment by holding or 'tapping' the card on a contactless-enabled card reader. Contactless Cards also come with an EMV chip and magnetic stripe, offering cardholders a variety of options at the register. If a store does not have a contactless reader, or does not have chip capabilities, the card can still be swiped to complete the transaction.
Convenience
10x faster than dipping, swiping, or inserting cash
Less wear-and-tear; Contactless will not wear out like a magnetic strip or an EMV chip
Contactless technology is ubiquitous throughout Europe and Australia, making this technology better for overseas travel
Security
Contactless readers securely authenticate card information, similar to the EMV chip, in that a unique, one-time code is created each time a transaction is initiated and no cardholder information is shared
May help reduce certain types of fraud that can result from third-party or merchant compromise
For additional information, visit our Contactless Cards FAQs.
---
MoneyPass ATM Network
To save you money when using an ATM, there are no fees if you use an ANB Bank ATM. In addition, there are no surcharge fees if you use one of the 40,000 MoneyPass ATM locations. To locate a MoneyPass ATM near you, click here.
---
Debit Card Security Controls - CardValet®
Security controls for your Business Debit Card – control where, when, and how your debit card is used with the CardValet app on your smartphone.
---
Visa® SavingsEdge
Visa SavingsEdge gives enrolled Visa Business cardholders ways to save on qualified business purchases using an enrolled Visa Business card with Everyday Offers – savings that are automatically available after you enroll – and Activate Offers – limited-time savings that you must activate to be eligible. Discounts require no coupons or codes, because they are applied as statement credits on enrolled Visa Business cardholders' future account statements. Select offers may require activation. For more information, visit visasavingsedge.com.
---
Fraud Alerts
Your ANB Bank Business Debit Card is protected by a fraud detection service that helps prevent potential fraudulent use of your card. This round-the-clock service protection on your card identifies uncharacteristic activity on your account. If a transaction is flagged as suspicious, you will receive a phone call or text message* from ANB inquiring about the transaction and asking you to confirm the validity of the recent transaction.
Please make sure your current contact information is on file with us, including your business and cell phone number, in case we need to contact you.
If you are planning to travel, please contact your banking center before you leave to help ensure the transactions you make while traveling are noted, so there isn't a restriction placed on your card.
---
Disclosure
*Fee: No annual fee. If you change your design two or more times during the year, a $10.00 replacement fee per card will apply. See the Business Miscellaneous Fee schedule for additional details. Text Message: Wireless carrier charges may apply, depending on your wireless/Internet carrier's plan.