Skip to main content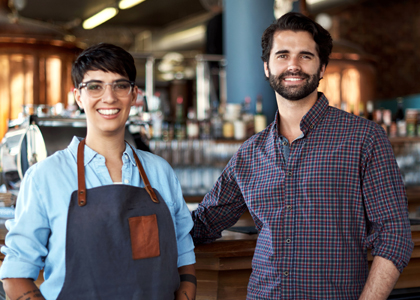 Update 5/4/2021
On May 4th, the SBA has announced that all funds for the Paycheck Protection Program have been exhausted and therefore, we have stopped accepting new applications.
Please note, for applications that are in process, ANB Bank will continue to monitor for SBA approval based upon the availability of funds. A submitted application with ANB Bank does not guarantee successful funding of a PPP loan. Applications are subject to approval and availability of funds, as determined by the SBA. You will be notified by your ANB Bank Loan Officer regarding the status of your PPP application.
---
Update 4/15/2021
The PPP application deadline has been extended until May 31 st, 2021. The Small Business Administration will have until June 30 th, 2021 to consider applications. (Subject to availability of Funds)
If you plan to apply, please reach out to an ANB Bank loan officer to start your application.
Second Round Forgiveness:
We are excited to inform you that ANB Bank has officially started to accept forgiveness application requests for Second Round PPP Loans that originated in 2021. Please note a few important items to assist with this process:
Starting 8 weeks after your PPP funding date, you can apply for forgiveness once all loan proceeds for which you're requesting forgiveness have been used. You can apply for forgiveness any time up to the maturity date of the loan. However, if you do not apply for forgiveness within 10 months after the last day of the covered period, then PPP loan payments are no longer deferred, and you will be required to begin making payments.
Please review our PPP Forgiveness FAQ Page (Link) for additional information.
ANB Bank will continue to utilize our online portal to process forgiveness applications.
You will need a secured link to access our online portal. Once you're ready and can certify (and provide documentation, for loans greater than $150,000) that all funds have been used appropriately and completely, please reach out to your loan officer and they will send you the link.
Thank you for the opportunity to assist you with your PPP Loan.
---
Update 1/15/2021
The SBA will be opening its PPP Origination Portal to all Lenders on Tuesday, January 19th. On Friday, January 15, ANB Bank will begin sending invitations to existing customers who have expressed an interest in applying for a PPP loan. You must contact your lender to obtain an invitation to apply using our online portal.
Important considerations before you apply:
If you are applying for a second PPP loan:

You must have used the full amount of your first PPP Loan on eligible expenses before a second draw can be funded.
The new rules require that you are a business with 300 or fewer employees;
The maximum loan amount is $2 million;
You must have experienced a reduction in gross receipts of 25% or greater in any quarter of 2020 compared to the same quarter in 2019.

Continue to monitor the SBA website for additional guidance.
We appreciate the opportunity to assist you with your PPP Loan.
---
Update 1/4/2021
On December 27, 2020, The Consolidated Appropriations Act of 2021 (COVID-19 Relief Bill) was signed into Law. This Act contains a number of reforms to the current Paycheck Protection Program. Some of the more meaningful changes are highlighted below.
EIDL Advance – The latest COVID-19 relief bill repealed the requirement for SBA to reduce a Borrower's loan forgiveness amount by the amount of an EIDL Advance received. Effective immediately, the SBA will not deduct the EIDL advance amount from SBA forgiveness payments.
Simplify PPP Forgiveness – For PPP loans $150,000 or less, borrowers will submit to ANB Bank a simplified one-page forgiveness form, which ANB Bank will then submit to the SBA for their forgiveness review. The SBA is currently working to establish this new form. Once available for use, ANB Bank will provide additional guidance.
Tax Deductibility – Under the new Bill, expenses paid with a forgiven PPP loan proceeds may be deducted from taxable income.
Additional Round of PPP Funding – The Bill Authorizes $325 billion for PPP, EIDL and other small business assistance. The SBA will be required to establish rules and regulations to provide guidance related to this additional round of funding.
ANB Bank will again be participating in the PPP to assist our customers that have been affected by the COVID-19 pandemic. We are not yet accepting applications as we await final rules from the SBA. Once the SBA publishes the final rules, we will work quickly to implement those rules into our systems and begin accepting applications as soon as possible. We will continue to monitor the SBA for additional guidance and will provide more information when available.
We appreciate the opportunity to assist you with your PPP Loan.
---
Updated 11/20/2020
ANB Bank is excited to announce that we will begin accepting Paycheck Protection Program (PPP) Loan Forgiveness Applications on Monday, November 23, 2020. Due to the large number of forgiveness applications and the time required to process each application, we will be inviting borrowers to apply in stages over the next few months based on the origination date of your PPP loan. This staged approach will allow us to provide a higher level of service and more timely processing of applications.
When you are eligible to apply, you will receive an email containing a secure link to our online portal to complete your application. Finally, before you apply we would encourage you to consult your tax advisor regarding the potential tax implications related to loan forgiveness. Each situation is unique which is why we would recommend you consult with your CPA, tax advisor, or attorney for tax guidance related to your specific circumstances.
ANB Bank will continue to provide updates on the Paycheck Protection Program (PPP) as they become available.
---
Updated 11/04/2020
Thank you for choosing ANB Bank for your Paycheck Protection Program (PPP) Loan. We appreciated the opportunity to assist you with your PPP Loan initially and are committed to working with you through the forgiveness process.
As you may know, the Small Business Administration (SBA) began accepting applications for forgiveness in mid-August. Since that time, SBA and Treasury have continued to make changes to their systems as well as the rules and regulations governing forgiveness. In addition, Congress continues to discuss legislative proposals that would further streamline the process and address significant problems with the forgiveness, including automatic forgiveness below a certain dollar amount, as well as the deduction of Economic Injury Disaster Loan (EIDL) advances from the amount of PPP forgiveness.
Over the past couple of months, ANB has been working within this changing environment to develop a process for accepting applications for forgiveness. In the coming weeks, we will begin inviting customers to apply for forgiveness through our digital application. We have a large number of forgiveness applications and each application requires significant time to process. Consequently, we will not be accepting applications from all customers at once. Instead, we will invite smaller groups of customers to apply each week for the next few months. This staged approach will allow us to provide a higher level of service and more timely processing of applications.
As you prepare to apply for forgiveness, please consider the following:
Application Timing – It may make sense to wait for legislative action and/or further guidance from SBA before applying, depending on your situation. For example, borrowers that received an EIDL advance will have their forgiveness amount reduced by the amount of the advance. There are proposed bills in Congress that would change this so it may be to your benefit to wait for a potential legislative solution. There may be other scenarios where it would make sense to wait to apply as well. Keep in mind that you have until 10 months following the end of your chosen covered period (8 weeks or 24 weeks from the date your PPP loan disbursed) to submit your application. During that time, no interest accrues and no payment is due.
Application Type and Required Information – SBA has three different applications depending on loan amount and borrower circumstances. ANB will provide an application portal to input your application and upload supporting documentation. However, it would be beneficial to determine which application you qualify to use and review the required information and documentation. We recommend you visit the Treasury Department's website to review the applications, forgiveness instructions and Frequently Asked Questions.
Payroll Expenses – Many customers, particularly those who chose the 24-week covered period, will be able to document that all of their PPP funds were spent on payroll. If that is the case, you do not need to complete information or provide documentation for other qualifying expenses. Limiting the amount of documentation provided will be easier for you and will reduce the processing time of your application.
Payroll Documentation – If you use a third-party payroll service, they will likely provide reports that meet SBA's requirements to document employees, eligible compensation, and total payroll costs for your covered period. Now would be a good time to reach out to them to obtain that documentation.
Please reach out to your ANB Lender for more information.

---
Disclosure
You are responsible for the accuracy of all information and certifications submitted with your application and used to determine your loan amount and eligibility. In addition, it is your obligation to understand the SBA's PPP rules and whether your PPP loan qualifies for forgiveness. ANB is not responsible for the SBA's decision regarding whether any PPP loan qualifies for full or partial forgiveness.
ANB Bank makes no representations or warranties of any kind, express or implied, with respect to the nature, accuracy or otherwise of the information provided on this webpage or with respect to the suitably of the information to your particular circumstances. All content on this webpage is for informational purposes only and is not intended to be a substitute for legal or other advice. You should seek legal and any other counsel you deem appropriate and refer to the SBA website for any information regarding the Paycheck Protection Program.